Torna indietro
Corso Teorico-Pratico
TRANSBRONCHIAL CRYOBIOPSY IN DIFFUSE PARENCHYMAL LUNG DISEASE - 4th Edition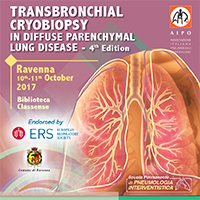 Data
da 10-10-2017 a 11-10-2017
Crediti
15
Responsabile Scientifico

STEFANO GASPARINI, VENERINO POLETTI

Sede

Biblioteca Classense, Sala Muratori

-

RAVENNA

Regione
Emilia Romagna
Figura Professionale
Medico chirurgo(Discipline: Anatomia patologica, Chirurgia toracica, Malattie dell'apparato respiratorio, Oncologia
Costo
550,00€; ERS/AIPO Members 495,00€
*Contattare la Segreteria Organizzativa AIPO Ricerche in caso di pagamento esente IVA (Art. 14).
| | |
| --- | --- |
| Programma | Scarica il programma |
| Durata | 15 ore |
| Tipologia Evento | Corso Teorico-Pratico |
| Numero Max Partecipanti | 60 |
| Provider | AIPO - Associazione Italiana Pneumologi Ospedalieri (5079) |
| Test di Valutazione dell'apprendimento | Previsto |
| Valutazione della qualità percepita | Previsto |
| Contatti | segreteria@aiporicerche.it |
| | |
| Telefono | 0236590378 |
| Sito internet | http://www.classense.ra.it/ |
The diagnostic work-up of diffuse parenchymal lung disease needs identification of the morphological aspects in a significant minority of patients. Surgical lung biopsy is considered the most efficient method to reach the goal so far. However it is associated to a significant incidence of morbidity and mortality mainly when the definite diagnosis will result to be Idiopathic Pulmonary Fibrosis (IPF) or in elderly.
Transbronchial cryobiopsy is a new bioptic approach in this clinical scenario that is gaining an ever increasing consideration in the scientific community. Its safety profile is significantly better than that of surgical lung biopsy and its sensitivity and specifity appear very good especially in patients with IPF. Standardization of the method and its clinical role in the diagnostic work-up of patient with diffuse parenchymal lung disease are still under evaluation.
In this Course the technical aspects of transbronchial cryobiopsy, a proposal of standardization, its diagnostic role -as documented by recent studies or by experience accumulated in specialized Centers- will be presented and discussed.
Stefano Gasparini, Venerino Poletti