Torna indietro
WORKSHOP INTERNAZIONALE
TRANSBRONCHIAL CRYOBIOPSY IN DIFFUSE PARENCHYMAL LUNG DISEASE- 10th Edition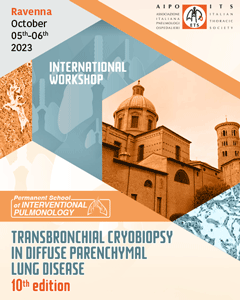 Data
da 05-10-2023 a 06-10-2023
Crediti
12,6
Responsabile Scientifico
VENERINO POLETTI - STEFANO GASPARINI

Sede

CIRCOLO DEI RAVENNATE E FORESTIERI

-

RAVENNA

Regione
Emilia Romagna
Figura Professionale
Medico chirurgo (Discipline: Anatomia patologica, Chirurgia toracica, Genetica medica, Geriatria, Malattie dell'apparato respiratorio, Medicina interna, Oncologia, Radiodiagnostica, Reumatologia)
Razionale
| | |
| --- | --- |
| Programma | Scarica il programma |
| Durata | 12 ore |
| Codice Evento | 392636 |
| Obiettivo Formativo | Linee guida - Protocolli - Procedure |
| Tipologia Evento | WORKSHOP INTERNAZIONALE |
| Numero Max Partecipanti | 50 |
| Provider | AIPO - Associazione Italiana Pneumologi Ospedalieri (5079) |
| Test di Valutazione dell'apprendimento | Previsto |
| Valutazione della qualità percepita | Previsto |
| Contatti | monica.raimondi@aiporicerche.it |
| | |
| Telefono | 3332040714 |
Con la sponsorizzazione non condizionante di:

The diagnostic work-up of diffuse parenchymal lung disease needs identification of the morphological aspects in a significant minority of patients. Surgical lung biopsy is considered the most efficient method to reach the goal so far. However, it is associated to a significant incidence of morbidity and mortality mainly when the definite diagnosis will be Idiopathic Pulmonary Fibrosis (IPF) or in elderly.
Transbronchial cryobiopsy is a biotic approach in subjects with diffuse parenchymal lung disease that is gaining consideration in the scientific community. Recent guidelines suggested to consider this approach a valid substitute of surgical lung biopsy.
Its safety profile is significantly better than that the last one and its sensitivity and specifity appear very good especially in patients with IPF. Recent studies, documents and guidelines have defined, at least in part, modalities by which cryobiopsies should be taken out, its safety profile and the clinical role of this technique in the diagnostic work-up of patient with diffuse parenchymal lung disease.
EBUS-guided cryobiopsy has also been recently evaluated as a fruitful approach for mediastinal lesions. Cryoprobes could contribute to the precise diagnosis and molecular profiling of neoplastic disorders and chronic obstructive pulmonary diseases.
In this Course the technical aspects of transbronchial cryobiopsy, recommended standards of the technique, its diagnostic role will be presented and discussed.
Venerino Poletti, Stefano Gasparini